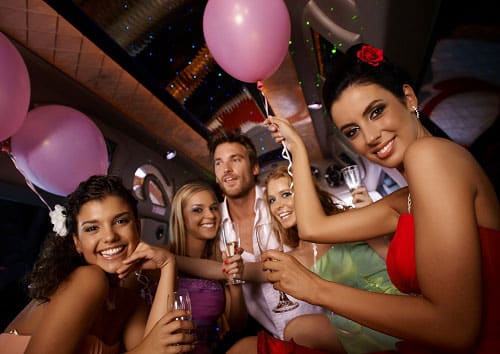 Party Limo Hire Sydney
What better way to party than riding with you and your best friends in a Party Limousine?
We have plenty of vehicles ready for all types of celebrations.
Our stretch limos and strech Hummers are eqquipped with bars, killer sound systems and disco lighting.
Book ahead and get this party started!
Want to Party? Are you ready to kick out in style and class?
Our modern and stylish limousines make us the ideal choice for transporting party goers all over Sydney.
With our limo party hire service you really have 2 choices:
Hire a limousine to move a group of people to and from a party within Sydney.
Hire a limousine and have your party in the limo! Our chauffeur will drive you around Sydney to locations of your choice for as long as you like.
Whichever option you choose you will always receive A-class service and experience everything our luxurious and impressive party limos have to offer. To achieve the maximum effect call us to discuss our stretch limousine and stretch Hummer options to make your next party a huge success.
In fact our stretch limousines and stretch Hummers are constantly used for Anniversary or Birthday Celebrations, Christmas Parties, Nights On The Town and plenty of other occasions. People choose us when they want to party in impressive style and have an awesome experience.
Why choose Party Limo Hire in Sydney?
Here are a few reasons why you should choose Sydney Limo to fire up your party and make it one to remember:
Ultimate People Mover
Fit large groups of people in our stretch limousines and Hummers. Give us a call so we can discuss the best vehicle to suit your needs. It is great when you have all of your close friends in the one vehicle. With everyone enjoying the party atmosphere and not missing a beat!
State Of The Art AV Systems
The Audio and Visual systems in our stretch models include features such as CD / DVD player, LCD screens and disco lighting. See why they are made for parties?
You can crank up the music and get the lights going to give you a real nightclub feel while you are driven down the street. You can even have a dance in the stretch Hummer with the extra room.
Bar Facilities
Our stretch Limos and Hummers both have bar facilities that allow you to enjoy a couple of drinks while on the move (if you are old enough of course). Also you can easily see and talk to everyone in the back so it is a great way to get the party started and keep it going!
Professional Customer Service
Our drivers have heard and seen it all before. Of course we do ask that you behave responsibly – especially when there is alcohol involved. Saying that, we also understand that you are out for a good time and we want you to have fun.
Our drivers are professional, formally dressed and very friendly. They will do everything they can to assist you in your party to ensure that you all have a great time.
No More Designated Drivers
When you book with us you won't have to worry about trying to convince a few of you mates to be a designated driver. No matter what your mates tell you – none of them want to watch you all having fun and enjoying yourselves while they have to be stone cold sober to drive.  Also you need a few car loads to match the capacity of a single stretch limo.
No Parking Issues
Even if you do convince someone in your group to be a designated driver then they have the trouble of finding parking when you go out. In case you don't know – parking in Sydney CBD is a nightmare. You can spend ages looking for a parking spot then when you finally find one it requires payment that is way overpriced or is located miles away from where you want to go out.
With our service we drop you off and pick you up from your desired location at your agreed times. Our chauffeurs will work out what to do with the vehicle in between drop off and pick up times so you can just focus on enjoying yourselves.
Make Your Party Epic
Book your Party Limousine  with us now to make your party a smashing success. You will not only impress your party guests but also everyone that sees you as you drive past and turn up to your destinations in superior style.
Pick up the phone and give us a call. We will talk you through your options and you can make a decision on which vehicle you want to hire for your epic party.
Party Limo Hire Sydney
Celebrate in style by hiring a chauffeured party limousine in Sydney.
Book ahead by calling us on (02) 8880 5223 or click below