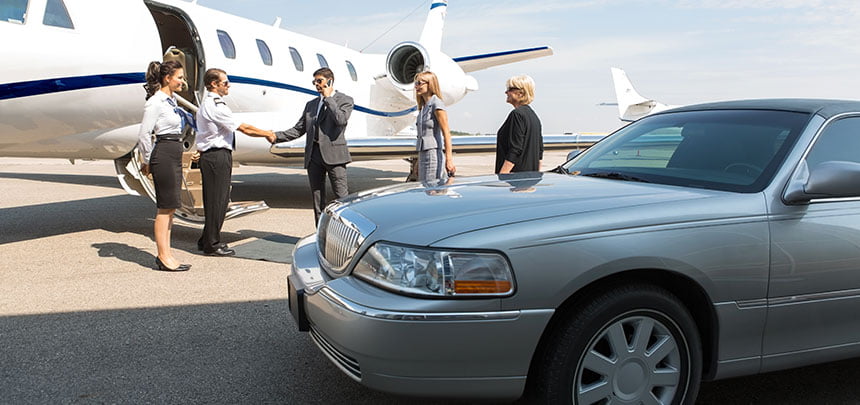 Limousine Airport Transfers
Don't risk running late for your flight. Instead travel in style.
Choose our reliable professionally chauffeured Sydney Airport Transfers.
Private hire cars include sedans, SUVs, stretch limos & Hummers.
One of our most common private transfer services that we provide are Sydney Airport Transfers for domestic or international arrivals and departures. Avoid airport terminal mix ups and travel with a professional and reliable service.
Sydney Airport Drop-Off
All of our staff understand the devastating consequences that running late for an airport drop-off can result in. Missing flights can have both financial and emotional impacts that can sometimes be life changing. For that reason it is vital that you have a reliable airport transfer service.
Fortunately you can remove the worry from this situation by allowing our professional chauffeurs to perform all the hard work for you. By booking with Sydney Limo you will have peace of mind that your travel agenda will be met. Our reliability is of utmost importance to us, but our service doesn't stop there.
From the first moment our well-presented driver meets you, you will instantly appreciate our high standard of quality. Your friendly chauffeur will greet you with a warm welcome and politely escort you to your chosen vehicle. You will instantly understand why people prefer travelling with us every time.
Our modern luxury vehicles are fitted out with all the trimmings for you to enjoy your journey. Feel like a VIP travelling in true style and if you are accompanying guests or clients they too well be highly impressed.
All of our drivers are well educated on Sydney roads and traffic conditions to ensure that you there is no chance of missing your check-in time at the Kingsford Smith Airport in Mascot. You can simply relax and enjoy the ride knowing that everything is taken care of.
Sydney Airport Pickup
If your booking is for collection from Sydney Airport our drivers will monitor your flights arrival time to ensure they are prepared for an early arrival or a delay. Either way our chauffeurs will cheerfully meet you at your exit gate with your name on a board.
From this moment on you can sit back and know that you are in great hands. Your driver will assist with your luggage, escort you to your vehicle and begin your drive to your chosen destination. From here on you will be able to enjoy the finer elements of our luxury vehicles.
You and your guests will be treated with great respect and appreciation from your chauffeur and you will be portrayed with an everlasting professional image.
We also understand that you may be tired from your flight so if you choose not to engage in conversation with your driver then that is completely fine. Your chauffeur will know your desired destination from your booking and quietly drive you there.
Alternative Sydney Airport Transport Methods
It is not uncommon for people to choose alternative methods for Sydney Airport Transfers. Common options include Airport Shuttle service, Taxi or even hiring a Rental Car to drive themselves. By all means these are all viable options for you, but before you finally decide on your method of transport it is important to consider the finer details.
Sydney Airport Shuttles
Airport shuttles are one of the cheapest method of transport but this also means it attracts a lower class of users. This could mean that the other passengers are noisy and offensive. Also these services are often completely booked out, resulting in limited seating. This often means you are squashed next to someone for long periods of time. Factor in the fact that people may be sweaty and smelly especially after a long flight and spending that little bit extra to get private transport suddenly seems well worth it.
Sydney Taxi
Next you may consider a Sydney Taxi. But the most annoying thing about this option is definitely the incredibly long wait times that you can incur as an entire plane load of people try to leave the airport at once. If you are leaving an international terminal then this could be several plane loads at once queuing for a Taxi. At the end of the day standing in line after an international flight is not an enjoyable experience.
Rental Car
Of course you could avoid relying on anyone altogether and hire your own transport from a Car Rental provider at Sydney Airport. However once again you may find yourself waiting in a queue and having to fill out insurance paper work before getting the keys to your rental car. Then you are faced the responsibility of not damaging the rental and returning it back to the rental car provider in the future. This equals more hassle.
Choose Us for Sydney Airport Transfers
After considering the alternative methods it is understandable why privately chauffeured transport would be the most expensive option. It not only removes all of the pain of the other options but also provides the most luxurious, stylish and comfortable ride available.
So no matter if you are arriving or departing domestic T2 or T3 or international terminal T1, we have you covered.
When you also factor in the reliability, safety and convenience you will understand that paying a little bit extra for a Sydney Airport transfer by a limousine hire car is definitely worth it in the end.
Our Chauffeured Hire Cars Are Perfect For Sydney AIrport Transfers
Forget the Rental Cars and beat the Taxi queues. Order your airport limousine transfer today.
Secure a great deal by calling us on (02) 8880 5223 or click below