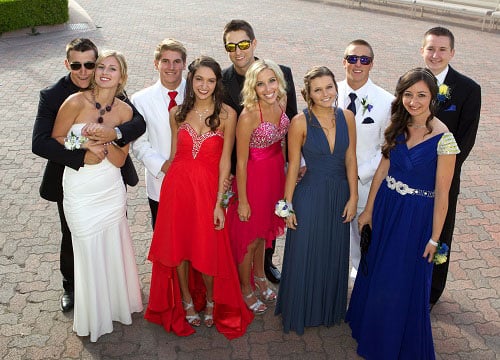 Formal Limousine Hire
Be the Envy of your friends as you arrive to your School Formal in an impressive Stretch limousine.
Get your best mates together and hire a stretch limo. Or why not go all out and get a strech Hummer!
Send school off with a truly memorable night.
Click below to get a quote:
Planning your Year 10 or Year 12 Formal?
Want to finish the school year off with a bang?
How about rocking up to your formal in a private limousine with all of your close mates?
That will surely make a statement! Think about this:
You arrive to your High School Formal in a stretch limo or one of our stretch Hummers. Onlookers stare with envy and amazement as they watch you exit. You instantly become the talking point for months to come. You feel thrilled and absolutely fantastic while everyone else is jealous as you just had the ride of your life!
Range of Formal Limo Hire Vehicles to Suit your Need
Our fleet of limousines provide you with a range of vehicles to choose from. Let us know what your plans are and we can find one that suits your needs.
We can also cater for groups of any size. Maybe you might want a personal and romantic ride with just you and your partner? Or maybe your want to get all your friends together so everyone can enjoy the journey together? Either way, when you travel with our formal limo hire you will always travel in sublime comfort and ultimate style.
Entertaining Travel
Our stretch limos our great for moving a party from one venue to the next. With state of the art sound systems, flat screens for watching music CDs or DVDs, nightclub lighting and plenty of room for all your mates. Everyone will be so thankful that your made the booking.
Time to Celebrate
You have no doubt worked hard all year and the years leading up to this point in time. So why not celebrate properly for all your intense study and exams you have completed over the years? But remember, there is a lot to consider for this upcoming extravagant event:
Who to ask out on a date? What to wear? Where to start the night? Where to go afterwards? And of course what mode of transport to use?
Dress to Impress
We all know that the girls will spend hours in the hairdresser and hundreds of dollars on just styling their hair alone for the formal. Not to mention the cost of tuxedos, dinner suits, evening gowns and elegant dresses. The whole formal experience can definitely be expensive.
But for all the money that you and your friends will spend on this special night it is definitely worth spending that little bit extra to make the journey to and from the venue a much more enjoyable and memorable experience. With a formal limo hire, you can do just that!
Capture Joyous Memories
Your chauffeur will also be able to arrange to take your group to a suitable location for photos with your formal limousine. These will be treasured memories. You will want quality photos that you can appreciate for years to come to make sure you bring a suitable camera.
Also your parents will be glad to know that our drivers are fully accredited and licensed to ensure your journey will be safe when travelling with us.
So go on give us a call now to discuss what formal limo hire options we have available for you.
Formal Limo Hire Made Easy
Leave the transport for your School Formal up to us. Our professional chauffeurs will transport you and your friends in unforgettable style.
Call us on (02) 8880 5223 or click below to book: