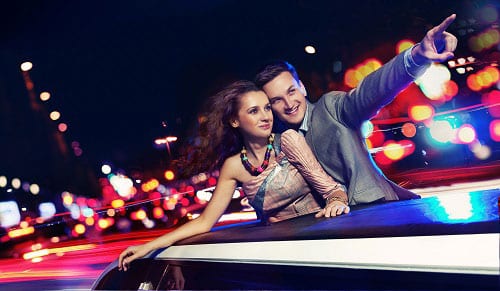 Night on the Town Limousine
Leave the driving to us on your big night out on the town in Sydney.
Our chauffeurs will transport you and your friends while you enjoy your night out.
Don't risk the temptations of drinking as a designated driver. Allow everyone to have a great time.
Celebrating something big?
Sometimes the only way to celebrate is by having a Night on the Town. A night with all your close friends going all out. A night where you can be wild, let loose and just have fun!
When you want to celebrate in true style you need to look great. And our immaculate chauffeured limousine service allows you to look your best!
Just imagine how impressive your group will be when you turn up to venues with our professional chauffeur escorting you out of the car. You will look like real VIPs and will grab attention everywhere you go. Your big night out will be transformed into an unforgettable experience.
All you need to decide is where you want to go, who will be joining you and what you want to do on your big night out? Book  a party limousine through us and allow our professional drivers to take care of all your transportation needs. Then enjoy the ride in our ultra-stylish and luxurious limousines as we chauffeur you around town.
The Perfect Night on the Town
So what makes the perfect night on the town? Well it really comes down to personal preference. But most people incorporate the following activities into their ultimate night out:
Delicious Dinner in a 5 Star Restaurant
Having a succulent dinner is an essential for any great night out. And with such a multicultural background, Sydney has every cuisine that you desire.
Sydney delivers many top quality restaurants to choose from, some very exclusive, with mouth-watering menus. Booking at some of these restaurants requires sufficient notice so make sure you plan ahead. Once you have booked we can get you there on time for your booking, allowing you to arrive in true style and elegance.
Great Music or a Live Show
There are many great places around Sydney to see live music and shows, the most famous being the Sydney Opera House. But there are also plenty of other places that hold live events such as the Sydney Entertainment Centre, Sydney Olympic Park and a magnitude of bars and clubs.
Going to a live show in a limo will give you such a rush. With so many people seeing you exit or get into the limo at the end of the night you will feel like a real celebrity. Plus while in our stretch limousines you'll be able to enjoy the limo's bar facilities and can have heaps of fun with your friends.
Dancing
When girls go out there is always a time of the night when they want to dance. And the guys love a good boogie too. In Sydney you can find tonnes of bars and clubs for every music taste where you can have a jive. Let us get you to a venue of your choice or bar hop while you sample a few of Sydney's finest. Just remember to bring your dancing shoes!
Drinking / Party
Having a drink is always a great way to start a party. The beauty of our stretch limos is that we have bar facilities for you to enjoy. Relax and get into party mode with a drink on board as we transport you between destinations. Sydney also has a great nightlife that allows you to enjoy a drink and party all night.
Casino
The Star is Sydney's premier casino right on the harbour at Pyrmont. Rocking up to the casino in a limousine commands respect and is always fun. Of course you can gamble at The Star but you will also find lots of restaurants, hotels and retail shopping. Also there are lots of bars and one of Sydney's best nightclubs – Marquee. The Star also has frequent live shows and gigs for all genres of music and entertainment.
Hotel or Home Trip
When the end of the night is approaching you need a ride home. Our reliable limousine service can meet you at your required location and take the hassle out of getting you and your group home. Even at the end of the night your will be leaving your last venue in true style and ultimate luxury. Enjoy the facilities of the large LCD screens to watch a movie on your ride home or just kickback and enjoy the state of the art sound system.
How will you spend your Night on the Town?
Planning your night out can be hard work. If you are struggling for ideas check out what's on in Sydney.
Once you have a plan make sure you book your transportation with us. You can choose from entire limousine fleet. We will ensure that the night starts with ultimate luxury and class allowing your night on the town to be a huge success.
Our professional drivers will pamper you and you'll definitely feel like a celebrity as you are whisked around town in our modern, stylish and decked out limousines. Of course you could always choose a stretch Hummer to command even more attention and fit more of your friends in for the ride.
Don't wait another minute. Book with us to transform your next night on the town into an unforgettable night that is off the charts!
Book Your Night on the Town Limousine
Stylish, classy and sensational. That is what you guests will remember about your night on the town when you book with us.
Lock it in now by calling us on (02) 8880 5223 or click below