Executive & Corporate Services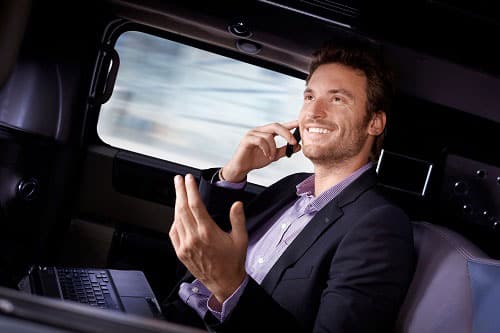 Chauffeured Corporate Hire Cars
Reliable & professional service with a stunning line of Sydney limousines.
Unmatched business transport for executives and corporate staff.
From one off events to regular corporate services, choose Sydney Limo.
Valuable clients to meet. Important projects to sign off. Critical targets to achieve. Pressure, stress and deadlines!
The modern day executive lives a high stress and fast paced life. There is often not enough hours in the day to achieve all the meetings and appointments that are scheduled.
If you are in this position you need a supportive and efficient network to achieve great success. Fortunately that's where Sydney Limo fits in perfectly. We provide professional and reliabile transport solutions to complement all Sydney businesses, management and staff.
Reliable Corporate Hire Cars: Perfect for Business
Our chauffeured corporate hire cars are currently used by many businesses and executives all over Sydney. Our entire limousine fleet is available for your request which includes executive sedans, stretch limos and even stretch hummers. We are always transporting businessmen and women all across town for various requests such as airport transfers, travel between offices, meeting business partners, viewing premises, corporate events, entertaining clients and even team building days.
We understand the importance of keeping to a timeline and meeting a deadline for a pickup and drop off location. For this reason our drivers study their planned travel routes to be well versed on the best roads to travel on. While we cannot predict accidents and misfortunes we do know Sydney roadways. With this knowledge we know the traffic hot spots and the roads to avoid in peak times.
When you book an executive limo with us we will not make any commitments that are impossible to achieve as our passenger safety is of the highest importance to us. We want to get you to your required destination at your requested time but not at the risk of anyone's safety. We take the time to plan your trip and with our knowledge of Sydney and neighboring areas we can ensure that you will arrive "on-time" without any dangerous or illegal driving.
Arrive Relaxed and Ready
We want you to travel between destinations in a relaxed state so that you can enjoy our corporate hire cars and the friendly warmth of our experienced drivers. Get comfortable with our vehicles luxurious feel of the leather seats and remain at ease with the cars split climate control. Never again will you have to worry about turning up to a client meeting with noticeable signs of sweating from stress or the heat of a hot summers day.
Travelling by yourself?
Our luxurious executive sedans are the perfect companion for you. Here you have the convenience of spreading yourself out on the back seat, reading through your diary notes and completing work on your laptop or smartphone. Your chauffeur will take care of the driving while you do anything that you desire. This way you will arrive both relaxed and ready for your upcoming events.
Travelling with a corporate group?
Our stretch limos are fantastic for holding an on-the-go team meeting with your colleagues before reaching your destination and also on your return trip. Our stretch limos provide you with the convenience of facing each other and using the DVD player and LCD screens to watch video presentations while you travel.
Otherwise you can fit up to 4 people in our executive limo sedans. 3 in the back and 1 in the front passenger seat. This can reduce your overall travel costs with us and still allow you to experience the convenience and style that our limos service provides.
The Choice is Yours
Overall our corporate hire car services provide a fantastic alternative to booking a taxi, using public transport or driving yourself. With us you do not have the stress of public crowds, delays with public transport or dealing with the driving yourself. Instead you can focus on getting prepared for your destination or simply sit back and relax.
Another key advantage of travelling with our executive limos is the bold statement that you will make of both style and class. When you arrive at a destination in any of our prestigious vehicles you will be commanding respect. Onlookers will be impressed to learn of your sleek mode of transport and your reputation will soar. The same powerful announcement will be made to spectators when you are collected by our luxurious and stylish corporate hire cars.
First Impressions Count
If you are looking to impress new clients or existing business partners the use of our executive limo services at the right time can have an ever-lasting positive effect that is highly beneficial.
Book Your Executive Limo & Corporate Hire Cars with Us
Professional uniformed chauffeurs to transport you anywhere in Sydney for all your business requirements.
Reliable, comfortable and stylish.
Call us on (02) 8880 5223 or click below