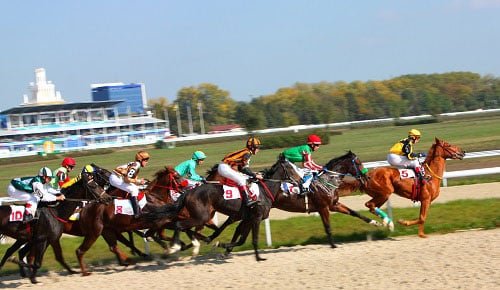 Race Day Limo
Arrive at the Randwick, Rosehill or Canterbury races in ultimate luxury and style.
Our reliable chauffeurs will have you at the Races on-time so you don't miss any of the action.
What better way to prepare yourself for a fun and enjoyable day.
Everyone knows a day at the races is both fun and exciting.
Ask any punter and they will tell you – the atmosphere at the racecourse is electric. When the barriers open and the horses are racing all attention is on the race. Even if you haven't backed a horse there is always someone around you who has and they are passionately cheering their horse to victory.
The Australian Turf Club is responsible for Sydney race days being nothing short of spectacular. And with the Spring and Autumn Carnivals there are plenty of race days to attend. Some of the biggest event days include: Golden Slipper Stakes, The BMW, Doncaster Handicap and Queen Elizabeth Stakes.
Now that you have decided you want to have a day at the races – you need to decide on how you will get there. By using our Race Day Limo service you can add some extra excitement to your big day. Here are a few reasons why you should choose us to provide you with a private transfer to the races:
The Perfect Entrance
Our chauffeured limousine service is the perfect way for groups of any size to travel to and from the races in impressive style and gorgeous luxury. We can pick up from any Sydney location and easily take you to Randwick, Rosehill or Warwick Farm Racecourse for a big race day and also collect you at the end of the day.
Our professional chauffeurs are polite and friendly. They will assist you in and out of the limousine treating you and all your guests with the utmost respect. We are very punctual so you can rely on us to arrive early to the races to check out the horses and get ready for a great day.
Choose from a huge range of vehicles in our fleet including executive sedans, exquisite stretch limos and even the bold stretch Hummers. Our stretch limos even feature the convenience of bar facilities. Meaning you can enjoy a drink on the way to the races to get you in the mood for your big day. We can even get the champagne on ice ready for you when we pick you up. Hopefully ready to celebrate your big wins.
Fashion On The Field
Getting dressed up for the races is a must and often you will see some outrageous, bold and daring dresses, hairpieces and other accessories. The gents too also get involved with some wild suits, ties and hats. The fashion on the field makes for a fun day at the races.
Amplify your entrance by getting all dressed up, going all out and turn up in a stretch limo or Hummer. That will command attention and will be a sure fire way to meet new people. You may even stumble upon a new trainer with some secret tips.
Back a Winner
Having a play on the horses when at the races is a necessity. Not only do you stand the chance to win some money but you are supporting the horse racing industry and joining in the fun of it all. After all it makes watching each race so much more enjoyable.
Cheer your horse on in excitement as it gallops toward the finish line. For a big race you want to get close to the finish line to see who crosses first. Hearing the thump of the horse hooves as they get closer to you adds to the excitement and the thrill of it all. Get involved and cheer them on and you are sure to make friends in the crowd.
No More Long Taxi Lines
If you have caught a taxi at the end of a race day you will know of the excruciating pain that can be experienced by the incredibly long wait times. It is not uncommon to wait as much as 60 minutes and longer for a taxi when you leave the races.
When you book with us your chauffeur will be waiting for you at the agreed time. They will pleasantly greet you and even help you into the vehicle. You will always get unmatched service when travelling with us.
Your Next Day At The Races
Give us a call now to book us for your next day at the races with a Race Day Limo. Make sure you plan ahead as race days can often get busy and we want to ensure that we can meet your travel requirements.
Book Your Race Day Limo
Arrive in unforgettable style. You can even enjoy a drink with your fellow punters in the back of our stretch limousines.
Call us on (02) 8880 5223 or click below