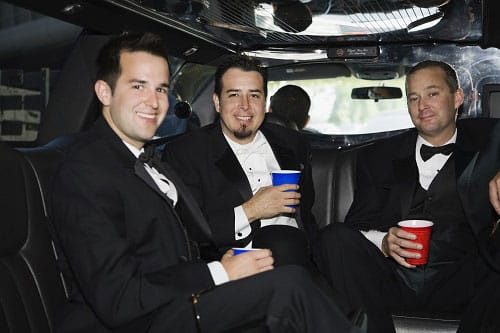 Bucks Night Limo Hire
What better way to get around town on your Bucks night?
Travel in style.
Choose from luxury sedans, stretch limousines or stretch Hummers to move the Bucks Party between venues.
Call us now on (02) 8880 5223 or hit the button below:
Your bucks night should be a once in lifetime event. One last celebration with the boys as a free man before exchanging vowels and becoming a married man.
Just like wedding day transportation needs special consideration, so too does this epic event. Plan it right and you will experience an awesome Bucks night that is loved by all your bucks and talked about for decades to come.
How to Celebrate Your Bucks Party?
There are so many different ways to celebrate a bucks party and it is very common for the celebrations to go over a weekend or even a few days. What occurs during your bucks party or the days of celebration is totally up to you and may include going overseas, activities such as paint balling or quad biking or maybe just a simple social gathering.
However you choose to celebrate you will find there will always be times when you require transport between different venues or locations. Of course you always have a few options but for such a special occasion why not go for the best and make every memory of your bucks party outstanding – including the transport. Below are just a few reasons why your should incorporate a Bucks Night Limo into your celebrations:
Outstanding Transport
Our Sydney limousine service provides you with the convenience of moving large groups of people in complete style, comfort and luxury. We have a large range of limousines for you to choose from including luxury sedans, stretch limousines and Hummers limousines all with the latest in modern features.
Keep the Bucks Party Alive
Having everyone together in the same Bucks Party Limo is a great way to keep the party vibe going. Choose one of our stretch models to fit whole groups in one vehicle and enjoy a drink with the bar facilities.
Then be blown away by the state of the art sound systems and large LCD screens to watch DVDs and music videos. If you want entertainment, travelling in our Sydney stretch models is like being in a mobile nightclub.
Highly Impressive
Bucks nights often include the groom's father and often the brother or brothers of the bride to be. The exceptionally high levels of customer service and respect that is shown by our professional chauffeurs will surely impress these and all of your Bucks night limo guests. This will also reflect highly on you for booking through us and your own reputation will soar.
Ultimate Convenience
Another convenience of using our prestigious Bucks night limo service is not having to wait in long taxi queues at the end of the night. The pain of waiting for taxis or watching them go past as they refuse to pick up large groups of men late at night is not something you should have to suffer on your bucks night.
With our reliable booking service you can be confident in the fact that we will arrive at your booking time and can once again enjoy the pure luxury of our vehicles.
We provide all your transportation needs. We also handle Sydney Airport transfers, drives to and from the city, or even follow you all night or weekend taking you from venue to venue.
Create A Bucks Night to Remember
If you are planning your own bucks night or one for your best friend you have a huge responsibility on your hands right now. We can help you ensure that your bucks night goes off with a bang by taking on the responsibility of your transportation with our Bucks Night limo service.
Book with us and you can ensure that people will be talking highly of your transportation for you bucks party for years to come. The rest of the planning is up to you.
Get the Bucks Party into a Sydney Limousine
Don't waste your precious time waiting around for taxis. Your Bucks night is worth splashing out.
Celebrate in Style! Call us now on (02) 8880 5223 or click below: