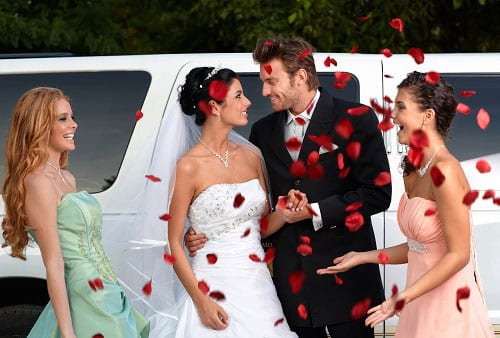 Wedding Car Hire Sydney
Your Wedding Day preparation is stressful enough. Now take the hassle out of transportation.
We offer you professional, reliable luxury vehciels and chaufferus.
Allow us to take care of the driving so you can experience your beautifull Wedding day.
Get a quote now and book ahead.
Congratulations!
You have finally found "The One", you are now successfully engaged and are getting ready to "Tie The Knot". Your wedding day will be remembered for the rest of your life so there is no point cutting corners. You deserve the best! And Sydney Limo are here to help.
Wedding car hire is a very common service provided by us and we are proud to announce that we have immense experience with weddings. Book your wedding limousine with us and our dedicated staff will make your wedding day a truly unforgettable experience for all the right reasons. Just imagine:
Our professional driver chauffeuring you in your luxury wedding limousine. You and the bridal party are relaxed and enjoying the day in style and comfort. As you pass people on the street they notice the ribbon on the cars signifying your commitments to each other. You watch passers-by trying to peer in through the tinted windows and you take a sip of your bubbly champagne. Your senses take it all in. This is the start of your new life together!
We have provided this to many of our happy clients and you can be next.
We Remove Wedding Stress
Our experience allows us to remove some of the headaches from your wedding day by ensuring the day runs smoothly. All of our staff understand the stress that can occur when planning a wedding and we are experienced in handling these special moments in your life.
Our countless wedding limo hire bookings allows us to know popular wedding spots around Sydney including common church's and other ceremony locations, photo hot spots for the couple and bridal party photo shoots as well as wedding reception locations. Our chauffeurs can even work with your photographers to setup your wedding car for photos with the couple and other group shots.
A Once In A Lifetime Event
Your wedding is truly a once in a lifetime event and with the right planning you can make it run efficiently and be remembered as one of the best days of your life.
The following questions are a great place to get started with planning your wedding transportation:
How many people will need transport. For example: The bride and groom, bridesmaids, groomsmen, bridal party, close family, etc.
How complex is the brides dress – will she fit in a luxury sports model coupe or will she require the extra room of a stretch limo to avoid crumpling her dress?
Is there a colour theme of the wedding? How about the colour of the bridesmaid's dresses or groomsmen's suits?
How much travel time will be required?
What locations will you be requiring pickup from?
Where will the wedding ceremony be held?
Have you considered locations for photos?
Where will the wedding reception be held?
Are there any specific locations you would like to visit while in the vehicles?
Will you require any transportation services after the reception?
Will the couple be venturing straight to a their honeymoon after the wedding? For example: Will you require a limo to the airport?
If you don't have answers to all of these questions that is perfectly normal. We understand the infinite decisions that the couple is presented with in planning for their "special day". While you may be striving for perfection please don't stress out about the finer details just yet. Our staff are here to help.
Wedding Car Hire is our Expertise
Our experience with providing wedding car and wedding limo hire allows our staff to remove the hassle of wedding transport from your planning. Also our uniformed and polite chauffeurs have seem all the nerves before and will do whatever is needed to make sure your special day runs as smoothly as possible.
Give us a call now and allow our friendly staff to assist you with your wedding car hire plans.
Find Us on WeddingPages.com.au – 1000's of Australia's Premier Wedding Suppliers. Featuring gowns, venues, invitations, cakes and everything you need for the perfect Australian Wedding. The A – Z of Australian Wedding Websites
Wedding Car Hire Sydney Made Easy
We have Luxurious Sedans, Stretch Limousines and Stretch Hummers to transport groups of all sizes all over Sydney.
Book ahead by calling us on (02) 8880 5223 or click below: