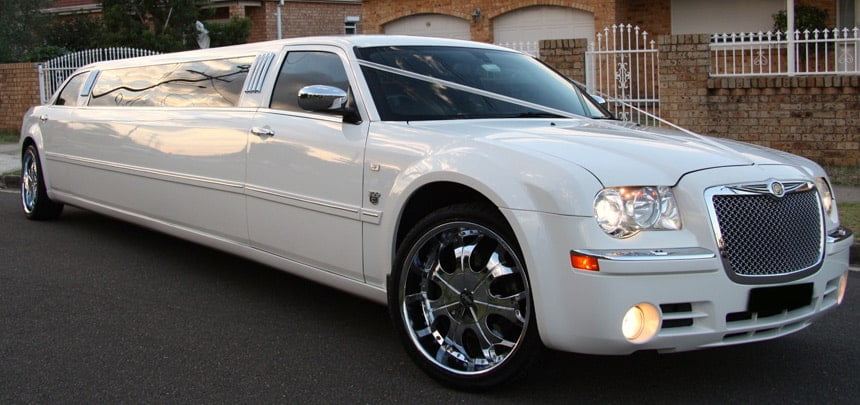 Stretch Limo Hire
Want to Book a Chrysler Stretch Limousine?
Call us on (02) 8880 5223 or click below:
Get a Quote Now
When you are looking to hire a limousine to move a large group of people you most likely need to hire a stretch limo.
A limo in essence is a chauffeured hire car. So when you search for or even request a limo hire service you need to be specific in requesting a stretch limo.
Why choose a stretch limo over a limo hire car?
For one you get more seating capacity in a stretch limo hire car. Sydney Limo provide you with access to a vast array of stretch limos with seating capacities depending on the make and model of the limousine.
A sedan can only accommodate up to 4 passengers, with 1 in the front and 3 in the back. That is because all of our rental limos are chauffeur driven for your convenience.
A stretch limo also provides you with added features that a sedan simply doesn't have. Such as large LCD screens in the back to watch a DVD movie or music clip. Also bar features are standard in most models as well as unique disco lighting.
When you decide to hire a stretch limo from us you get to experience a new way of travelling that is unmatched. Having all of your fellow guests in the back of a stretch limo as you travel through Sydney is an exhilarating experience.
In short – Stretch Limos command respect. The very sight of seeing a stretch limo fly past on the street causes heads to turn. Everyone attempts to peer into the windows however the tint is so dark that they have no chance of seeing who is enjoying the ride, unless of course the passengers choose to wind down the electric windows to feel the cool breeze as they zoom by.
Stretch Limo Hire Sydney
If you are looking for Stretch Limo Hire in Sydney, we have exactly what you need:
Choice of modern makes, models and colours to suit any occasion
Chauffeur driven stretch limousine so you can sit back and enjoy the ride
Affordable and competitive pricing
Looking for a different vehicle? Check out the rest our our Sydney limousine fleet.
Hire a Sydney Stretch Limo
Elegant, stylish and sensational. Travel in ultimate style, luxury and comfort!
Call us to book on (02) 8880 5223 or click below:
Get a Stretch Limo Hire Quote