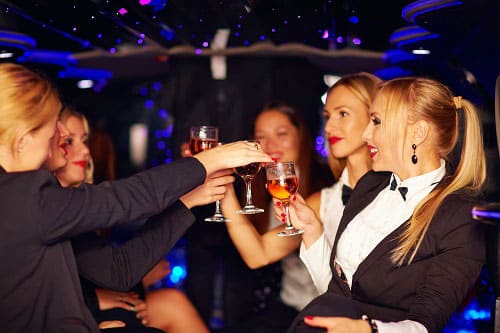 Ladies Night Limo
Travel in style and elegance with a chauffeured limousine.
We can take you anywhere in Sydney you desire.
Spoil yourselves! Call us (02) 8880 5223 or:
Get a Quote Now
As Cyndi Lauper says" "Girls just wanna have fun!"
And what better way than getting all your girlfriends together and having a night on the town.
Ladies night is a tradition that occurs all over the world. It could be a weekly, monthly, annual or even a random event. You will know when you and your friends are due for another get together. And at times you may even have to step up and organise it yourself.
After all, sometimes you need a night without men to catch up with just the girls. It could be a quiet night at someones house or perhaps a sophisticated catch for a fancy dinner. While other times call a full blown party night and going all out!
Create an Exciting Ladies Night
For your next ladies night try something a little different. Rent one of our chauffeured party limousines or even a stretch Hummer for a night of pure enjoyment.
You could head out to Sydney's CBD to a club or simply go for a joy ride around your local suburb. By leaving the driving to us, all of you can enjoy yourselves on your ladies night and you'll be blown away by our impressive vehicles and superior service.
Pampered with Luxuries
Get ready to be spoilt. Our chauffeurs know how to show a lady a good time.
Professional and polite, our chauffeurs will remind you of what a true gentleman is like. Little things like getting the door and simple manners will help start your night off the right way.
Once inside our luxurious limousines you will see what all the fuss is about. Stunning interiors, impressive sound system and LCD screens. Watch a DVD of your choice and enjoy the bar facilities by sharing a bottle of bubbly champagne with your girlfriends.
Elegance and Style
Our ultra-modern ladies night limousines are sleek, sexy and elegant. When you enter and exit our limousines you will be doing so in absolute style. Turning heads wherever you go you can choose to hide behind the tinted windows or wind them down to enjoy the wind through your hair.
Excellent Bonding Experience
Having a ladies night is a great bonding experience for new and old friends. When you get together in one of our stretch limos or stretch Hummer limousines everyone is close enough to take part in the conversation.
With our chauffeurs taking care of the driving you don't have to worry about anyone being a designated driver. Everyone can take part in the festivities of the night and have great time.
Being part of such an enjoyable experience is a great way to bond with the girls and strengthen your relationships. You will be able to talk about this for years to come.
Create a Night to Remember
Make your next ladies night a night to remember by hiring a chauffeured ladies night limo. You will soon realise that we provide much more than just transport. We provide experiences that last a lifetime.
Give us a call now to discuss your plans and we can talk about vehicle options and prices.
Book a Ladies Night Limo
Allow our professional chauffeurs to take the hassle out of transport for your Ladies Night.
Call us on (02) 8880 5223 or click below:
Get a Ladies Night Limo Quote