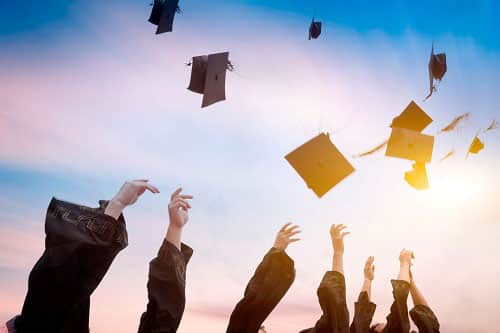 Chauffeured Graduation Limo
Make your special day even more memorable.
A grand entrance is easy with a chauffeured limousine.
Call us to book on (02) 8880 5223 or click below:
Get a Quote Now
Finally the day is here. Your Graduation!
There is no denying that university is hard work. Years of study, commitment and dedication.
Making it to the end of your university degree shows your strength and skill. Congratulations!
Now, have you ever considered private limousine transfer?
Planning Your Graduation Day
First comes the preparation for the big day. Time to organise your academic dress. Most people choose to hire a gown, hat and other attire that are required to participate in the graduation. However transport is often overlooked by most graduates.
Let's face it, getting around in your academic dress can be challenging and a little embarrassing if you are considering catching public transport. You may have considered driving however often there is limited parking at the Sydney universities.
Free shuttle buses may be available but then you have the hassle of queueing up and squashing in a bus with other graduates.
On top of all that, if it is a hot day being in your graduation gown and attire can be very uncomfortable. But there is a better way.
Graduation Limousine
There is a more comfortable and luxurious way to travel to your graduation. A chauffeured limousine ride.
After all your hard years of study and work you deserve this divine treat. Not only will you eliminate the worry and hassle out of the transport dilemma but you will be making this special day more enjoyable and memorable.
When you hire a limo from us you get to experience the finest in luxury limousines and have a professional chauffeur drop you off and pick you up.
We can meet you anywhere in Sydney and take you to your graduation venue. You can enjoy the graduation ceremony, have fun socialising with fellow graduates and then we can pick you up at the end of the presentation. Even if you want us to pick up form multiple locations, we are very flexible to your requirements:
Only want one-way travel? No problems.
Or perhaps you would like drop off to another venue for an after graduation celebration? That's fine too.
Just give us a call to discuss your plans and we are happy to work out a plan to suit your needs.
Huge Fleet to Choose From
We have plenty of travel options available too and all our vehicles are equipped with cooling climate control to keep you comfortable. Even on the hottest summer days.
If you are travelling by yourself or with up to 3 others you may simply want to enjoy one of our executive sedans. Equipped with the latest in modern design you can relax and enjoy the pleasant ride.
However if you want to make more of a statement when you arrive then choose one of our stretch limos or stretch Hummers. Your entrance will command respect and you will do so in magnificent style.
Getting a large group together to split the costs makes limousine hire very affordable. Also you get to experience the awesome interiors of our supreme limousines with your close graduate classmates.
Celebrate with Limo Bar Facilities
Our stretch limousines and stretch Hummers have on board bar facilities. Enjoy a bubbly champagne before or after the graduation ceremony to get you in the celebration mood.
We can arrive to pick you up with the bottle chilling on ice in the back of the limo ready for you to enjoy.
Picture Perfect
Hiring a graduation limo for such a special occasion will create a memory that you will want to treasure. We can arrange to take you to a picturesque location for a photo with you, your group and your limousine.
Maybe you want the University in the background to capture the moment or possibly overlooking a specific location nearby. Speak with our booking staff and we can arrange to have your chauffeur drive anywhere you like to get some great photos for you.
Reward Yourself
Completing your university studies is a momentous occasion. Reward yourself by making your graduation day even better. Incorporate a luxury limousine ride to and from your graduation day and let's start your celebration.
Book a Graduation Limo
Turn up to your graduation day in a limousine and celebrate your success in style with your closest friends.
Call us on (02) 8880 5223 or click below
Get a Graduation Limo Quote