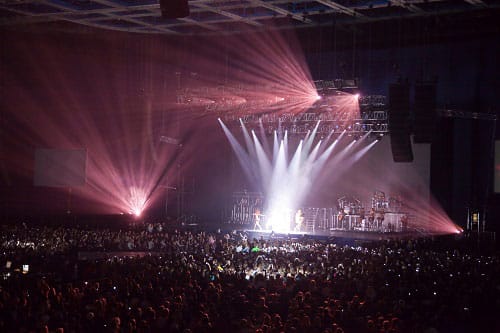 Concert or Theatre Limos
Remove the hassle from getting to and from your special event, with our chauffeured limousine hire car service.
Call us on (02) 8880 5223 or click below:
Get a Quote Now
Ready to be entertained? You're in luck. Sydney attracts many popular international acts and performers.
With Sydney's vast array of Concert venues and Theatres you can always find an upcoming show or performance to entertain every taste. Of course once you have your tickets organised you need to arrange transfer transportation to and from the show.
Travel in Luxury and Style
By hiring a limousine from our chauffeured limo service you benefit from plenty of fantastic advantages.
Arrive On-Time
Arriving early for your booking our experienced chauffeurs will stick to your schedule. We know the impacts that can occur when arriving late to a concert or theatre show. Our drivers will plan ahead to avoid any peak hour traffic. The last thing we want is for you to miss any of the show.
VIP Service
You and your guests will be treated like A-list celebrities. Prepare to be pampered and spoilt by our professional chauffeurs.
All of our vehicles are equipped with the latest in creature comforts and luxury options for your pleasure. If you choose one of our stretch limos or stretch Hummers you can enjoy the bar facilities and impressive AV systems. Enjoy your ride and get in the mood for the show.
Arrive in style, comfortable and ready for the big event. Then when we pick you up at the end of the show you can enjoy another drink and reminisce about the fantastic show you have just enjoyed.
Concerts
Watch famous and upcoming domestic and international music artists. Many big name stars frequently visit Sydney as part of their Australian or world tours.
Grab a ticket and enjoy chart topping artists, bands and DJs playing every genre of music. Rock, Pop, Dance, Jazz, Contemporary, Classical and everything in between. When you have your tickets, you can rely on our concert limo service to get you there for the show.
Theatre
Sydney Theatres have a beautiful and rich history. Sadly over the years many of the old Theatres were torn down as buildings were being updated and rebuilt however today you will still find some operating in their original state.
The architecture and design in Sydney's Theatres is simply breathtaking and well worth a visit to check out the buildings alone. However the shows that are held in these Theatres is what the real entertainment is all about.
From Broadway musicals, to opera and a variety of theatrical performances. You will find shows and artistic performances of every kind in Sydney's Theatres. Utilise our theatre limo service to transport you to and from every show.
Entertaining Clients
If you have business clients to entertain taking them out to a local concert or theatre production is a great way to build the relationship. Then impress them even further by covering all aspects of the event – including the transport.
Arriving in a chauffeur driven limousine is a great way to show your professionalism and level of success. Also your reputation will drastically increase with the support of our impressive vehicles and attentive chauffeurs.
Performers Transport
If you are looking to book transport for the performers of the event, you can rest assured that we provide a safe, discrete and reliable service.
Our professional chauffeurs are experienced at sticking to a prompt schedule to ensure that performers are ready well ahead of their rehearsals. Also the tinted windows provide adequate privacy for celebrities and stars who want to remain out of the public eye.
Concert Venues
Some of the more popular concert venues include Sydney's Stadiums that are used for sporting events such as Sydney Football Stadium, ANZ stadium and Allphones Arena. You will also find many concerts being held in the Sydney Entertainment Centre and Sydney Entertainment Quarter.
Sydney Theatres
There are still many Theatres in full operation in Sydney. The most well-known are the Sydney Theatre, Lyric Theatre, State Theatre, Capitol Theatre and the most iconic – Sydney Opera House.
For a full list of up to date information on Theatre shows in Sydney check out this link.
An Unforgettable Experience
Make your next Concert or Theatre experience an extra special event and take the stress out of transportation. Allow us to transport you to and from any Concert and Theatre venue in Sydney in unmatched comfort and style with our chauffeured limousines.
Book our professional and luxurious limousine service and experience true class.
Book our Sydney Limousines for any Concert or Theatre Performance
Remove the hassle from transportation for you next big show.
Arrive on-time and in style.
Call us on (02) 8880 5223 or click below:
Get a Sydney Limo Quote Now