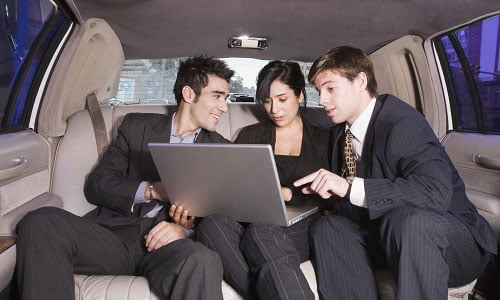 Business Conference Limo
Chauffeured limousines perfect for Corporate Executives.
We deal with Sydney traffic so you can prepare yourself in our stylish, sleek and modern vehicles.
Book now on (02) 8880 5223 or by clicking below:
Get a Quote Now
We specialise in business transfers to and from offices, airports and hotels. However a more specific request we often get from our business clients is for transport to various business conferences and events.
Business Conference Limo Benefits
We can help you achieve a powerful entrance or great first impression. Arrive at your next conference with our chauffeured limousine service in a sleek and luxury business conference limo. Choose any vehicle from our large fleet which includes executive hire cars, stretched limousines and even stretch Hummer limousines. You will instantly make a clear and bold statement about your professionalism and success.
Boost Your Reputation
Certain business conferences carry significant importance and you may have the chance to meet some very distinguished guests. You could even have the chance to meet new clients or grow your business by increasing your network.
At times like this you want to look your best and you only have a limited amount of time to make a standout impression. Arriving in a chauffeured limousine is a great way to improve your status which can assist you in getting ahead and meeting the right people.
Arrive Relaxed and Prepared
When you use our business conference limo service you can enjoy the comfort of our vehicles. Features such as climate control, leather seats and tinted windows make it easy to get comfortable. Sit back and relax while we transport you to your business conference.
Of course you are free to use your travel time however you choose to prepare yourself for the event. This may include using your smartphone, tablet or laptop to prepare notes or make calls.
If you are travelling in a larger group you may choose to hire a stretched limousine to accommodate everyone in the one vehicle. This will ensure that your team arrive at the same time. You can also use the travel time strategically to plan how each of you will spend your time at the business conference.
You can even go one step further and bring a DVD to watch on your way there. Our stretch limousines and Hummers have CD/DVD players and large LCD screens just for this purpose. Watching a presentation or having a small team meeting in your business conference limo will ensure that you all know your roles and responsibilities at the event. This can support you in achieving more business objectives at this event through effective preparation.
No More Travel Issues
Another benefit of our business conference limousine service is not having to worry about dealing with traffic or finding parking at the venue. As you will be booking ahead our drivers will ensure that they are educated on the best route to take so there is no chance of getting lost. This will allow you to arrive to the conference relaxed, comfortable and on-time.
Ever-Lasting Positive Reputation
Make sure you book a return pickup service with us too. When people see your formally dressed chauffeur waiting by the impressive limousine to escort you after the event, they will be left with a lasting positive reputation of you and your company.
Once again you will have the opportunity to use your time in the limo effectively. Discuss outcomes with your colleagues. Also make sure to capture any notes or ideas that are floating around your head before the next part of your busy day clears them out.
To Your Business Success
We are always pleased to support our business clients but we please ask that you provide us with as much notice as possible when planning your travel arrangements. If you are considering using our business conference limo service please give us a call now to discuss your options, our use the quote form below.
Achieve more success with your next business conference by employing our services for your transportation.
Book Your Business Conference Limousine Service
Enjoy reliable and sophisticated travel to your next business conference or corporate event.
Call us to book on (02) 8880 5223 or click below
Get a Business Conference Limo Quote Now